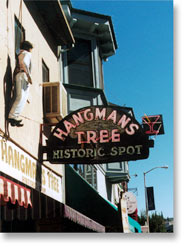 Shortly after James Marshall discovered Gold, the small town of "Old Dry Diggings" sprang up. Like so many other towns close to the original discovery site Old Dry Diggings rapidly populated with hundreds of gold seekers turning into thousands. Known as the "Road to the Comstock," Old Dry Diggings boasted the first railroad to the area and the first Telegraph.
Old Dry Diggings and Georgetown were center stage in California during the "Wild West." As such, the town later earned the infamous name of "Hangtown" for the overzealous use of hanging as a means of justice.
Later when the name was changed to Placerville, and after California had become the 31st state in the union, in 1854 the county seat was moved here, where it has remained for 150 years.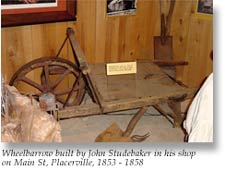 Some of the notable names in Placerville history are John Studebaker who rose to riches building automobiles after manufacturing wheel barrows for miners, and "Snowshoe" Thompson who carried mail over the Sierra to Carson City during the winter.