Gold Rush Ghosts
Nancy Bradley
Long dead gold miners that frighten drivers along a Gold Rush lane. Spirits that appear to guests at Gold Rush Inns. Cemeteries from a long gone era that house living spirits...
The Wyllie House
Submitted by Elizabeth Rhynes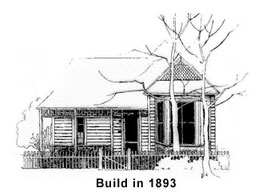 Elizabeth F. Rhynes has lived in Valley Springs and San Andreas townships all of her life. She is the owner of the Wyllie House, which is located at 110 N. Main Street in San Andreas; California. Mr. Wyllie built this house in 1893 while he was serving as County Recorder for Calaveras County. Elizabeth tells the story like this... "I purchased this house in 1993 exactly 100 years after it was built. I was told the very day I entered the house with the realtor that there was "a lady ghost" and that it was their lawful duty to disclose this information. This information made me quite nervous, as you would guess, but as I was in love with the house even after only seeing it once, I decided to go ahead with the sale. (I found out after the sale, that the ghost did not like the former owner and would frequently whisk items off the desk and break them...she told me this ten years after she sold me the house at a chance meeting) The same day I decided to buy, I was at the local grocery store and told my exciting news to the butcher on duty that day. His first words to me were ""have you seen the ghost yet?" I was shocked! I had not mentioned it once! I asked him what did he mean, and he told me that he had lived in the house the summer of his sixteenth year with his best friend at the time. They slept in the basement where it was cooler. One day he climbed the stairs, turned right to go out the front door, and saw a lady dressed in white sitting in the front bedroom looking out the window. He said she just look sad and 'bummed'. Well, this story didn't make me feel better or worse, curious, mostly.
The day after the sale was final in December 1993 I started to bring things over to my new home. It was maybe around nine in the evening, dark and cold! The house had absolutely NO lights on and I was carrying a heavy cardboard box full of my homemade jams, etc. I had only been the house once before; the very day I had toured the house and had to have it. I only knew that if I walked straight through the house I would hit a kitchen counter and from there I could find a light switch. So I opened the front door and walked through and found the counter. The very instant I set that box down, the house became light. I looked around behind me, and lo and behold, the dining room/parlor dimmer switch was turned all the way up. The hair on my neck shivered and I felt queer. Many times over the next few months, the lights would turn themselves on and sometimes I would see the parlor light go all the way up, and then turn itself off. It made me nervous, and Mike, my housemate thought I was crazy. (He never saw a ding-dong thing!)
I was vindicated one night after coming home from work about 7:30 pm. My bedroom has no light switches, just a pull string from the ceiling fixture. I felt all round and couldn't find it. I turned on the lamp and looked up and saw that the string was in a snarl at the very top, ten foot ceiling and all! I found Mike and said 'ha ha, very funny. Now you can just get back up there and undo that.' He was confused, but came and looked up. His face immediately lost all color and he looked at me very seriously and said 'I just undid that about ten minutes before you got home' At last! It wasn't just me! My bedroom houses the computer and he uses it also. He undid it for me when he saw it (the first time it occurred) and was amazed that it had happened again that fast. We tried and tried to get the string to go back into a snarl like it was but as the string is the old heavy waxed kind, it just swung in big round circles. It is unexplainable to us how this happened.
I think our ghost is the bride of Mr. Wyllie; the older locals in my town believe she died here in her house. Her husband died less than ten years after their marriage and she lived here alone. I believe she lost a young daughter named 'Lizzie' also. Many people remember her as a sweet lady who loved to have the neighbor children use her yard as a playground. I also think that she likes me and that is why she allowed me to see her 'playing' with the lights. Mike has never seen it. I was baptized Catholic in 1995 and since then, the episodes have become very rare. I thanked her for turning on the light for me that very first night. It was in a special way a 'Welcome Home" message that not many people are privileged to receive.

---

Still waiting after all these years!
Murphys Historic Hotel
Eleanor, the Murphys Historic Hotel''s ghost, came to work at the Hotel somewhere around the time when the Hotel was still called the Sperry and Perry House in the early 1860s. She was employed at the Hotel as a chambermaid. She met and fell in love with a gold miner who went off to seek fame and fortune to provide a comfortable living for himself and his new wife. But he was never to return. It is said that Eleanor lived her life at the Hotel waiting for him to come back. Eleanor kept the Hotel running doing odd jobs from kitchen work, serving food, running the front desk and cleaning rooms. Eleanor died some thirty years later; this is when Hotel guests and employees started noticing strange things. None of these events ever hurt anyone. They are usually thought to be Eleanor trying to go from one place to another or come into a room.
Eleanor is mostly noticed in the kitchen and wait station when small objects fly through the air with no one close by. Our maintenance man was standing in the kitchen fixing something when a handful of coffee beans flew by his head. He stood up to say something, but there was no one in the kitchen with him. When doors are locked with a Master Lock, Eleanor will try to gain access to the door by swinging or wiggling the lock. This movement can go on for hours. The owner was talking with his front desk manager at closing time when a lock to an inner door started swinging. The owner stopped the lock from moving, and they both watched as the lock started swinging again. This scene repeated three times before the two of them left the building.
Eleanor loves to join in meetings and will push open closed doors to come into a room, especially upstairs in the Mark Twain ballroom during staff meetings as if she is interested in what goes on and in the plans for the Hotel. It''s been said that you can see her in the mirror of the hutch in the Gold Room, an area off of the main dining room where Eleanor''s likeness hangs just inside the door.
Recently, two guests planned to spend the night in Room 9 and wait up to see if Eleanor would walk the hallways or enter their room. Evidently, their wish came true because by 10:30 pm, they said they had spooked themselves so much that they had to leave the Hotel and without asking for their money back.
Halloween weekend is spent by well wishers and ghost seekers hoping to catch a sighting or feel a whiff of cool air caused by Eleanor as she walks down the halls of the Murphys Historic Hotel.
Visit Murphys Historic Hotel at 457 Main Street, Murphys, California
---
... The Diamond Springs Hotel
Happy, Homespun, and HAUNTED

The Diamond Springs Hotel, built in 1916, sits near the sight of an old Miwok Indian Crematorium. It's restaurant has a warm, friendly old town atmosphere and offers delicious down home country cooking. A popular place for great food and good conversation by the locals. Sometimes you can overhear a conversation about the many ghosts that inhabit this historic site. There are many ghosts that visit this building from its natural vortex (try standing with eyes closed in the middle of the room), however most of the ghostly apparitions are there from the time before the hotel was built. A cause for a vortex is not known, what is known is it is an opening in the earth's surface that spirits can access.
In 1847, the town now known as Diamond Springs, was originally called Crystal Springs, the name attributed to the beautiful spring water that fed the area. According to Dennis Witcher, Curator of the El Dorado County Historic Museum in Placerville, "The area which now houses the Diamond Springs Hotel was the site of Sutter's original split shakes mill." It was also a camp for miners and weary travelers, some slept on the ground, others in homemade tents. These people long deceased, to this world anyway, with the comfortability of the vortex, can return to this place without stress.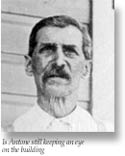 Waitresses at the Diamond Springs Hotel tell of their exasperating experiences dealing with unexplainable occurrences, while trying to do their job, and do it well. Experiences that arouse the senses, make the adrenaline flow a bit faster than usual, and keeps you looking over your shoulder. "I often hesitate to go into the corner by the restrooms when I first get here in the morning" Nancy Miller was to tell the author. "I will be alone in the building and things just go haywire. First of all I will hear noises inside the restrooms. I race into the men's room and fill the dispensers, do whatever is needed, and get the heck out. Sometimes there is a faint damp odor that I cannot explain. All the while I will have that inescapable feeling that someone is watching me." " For all this trouble, I hope he's at least Good Lookin'" she whispered. At the servers station in the same section, "You put a jelly or syrup down, turn around, and poof it has disappeared!"
Often folks have been known to see a filmy figure of a man sitting in the back booth with his big black lab at his side. Upon wondering why a dog would be in a restaurant, they look up to find an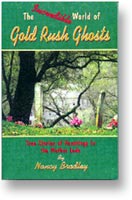 empty table. You can often hear groans, bangs and clashes in the upstairs rooms at the Diamond Springs Hotel.
Despite these uncanny events, the Diamond Springs Hotel remains one of the coziest places in El Dorado County.
Everyone is welcome, customers and...
This is only the beginning of the eerie events that have reportedly taken place at the Diamond Springs Hotel. You can continue reading about these and other unexplainable occurrences that have taken place along Historic Highway 49 according to author Nancy Bradley. There are many more well documented sightings that will unnerve and captivate you while reading Nancy's "The Incredible World of Gold Rush Ghosts."
As an example we offer another tantalizing teaser from a story in Nancy's book, a haunting along Prospector Road, one of the many stories of Haunted Highways!
---
Haunted Highways
Harrowing Highway Experiences
Nancy Bradley
The winding hillside known as Prospector Road is considered one of the most haunted roads in the Gold Rush country. It's pavement runs over old mines, old claims, and the bodies that lived it's history. In some cases, the collapse of tunnels gave miners premature burials, some died as a result of being eliminated by other greedy miners.
Prospector Road is in some places little more than a one lane path, as it runs the seven mile stretch adjacent to the convenient and more traveled county built Marshall Road. Prospector Road was built by Chinese labor in the 1800's, and cuts the winding mountainside connecting with Marshall at both Lotus and Garden Valley. The barely traveled road and surrounding terrain has a colorful Gold Rush history. It is well documented the treacherous nature of the countryside caused many a wagon, and later automobile, to overturn, spilling their passengers down the hillside to their painful date with death.
In the 1800's, substantial gold discoveries were made in these hills, which account for its name. As with the age-old stories of prospecting and claim jumping, many a foolish miner who bragged a bit too openly about his "find" was coincidentally lost among the hills of Prospector. Their bodies were often never recovered, and more often never looked for. It is known that many spirits roam the Prospector hills, and at least one is still seeking the gold he never recovered while having his life cut short while trying.
Perhaps it was his specter who frightened a young couple with poltergeist-like pranks after they settled in a new home along the road.
It was late one night the pretty young bride awakened from her fretful slumber. She was cold and had a feeling of something amiss. She pulled the covers up. Then she remembered making a large log fire before retiring, one that should have kept the house warm till morning. She turned her head to see the reflection on the wall, observing the wood still burning in the stove. She was grateful for the mirror on the wall which made this possible from her second story bedroom. Then her imagination kicked in, and she thought she heard unnatural noises in the house, She carefully and gently woke her husband, who was not to thrilled to be getting out of bed to indulge her. Together they went down the stairs.
"I knew my husband had locked and bolted the front door before we went to bed" she told us. "Now it was ajar. The bolt pin was still in the outward position, yet the wall slot where it should still be secured had not been torn." the couple could find no evidence of forced entry.
The mystery of the unexplained open door went unanswered. Everything else appeared as it should. that is, except for their dog. Hearing a frightened whimper, they turned to find their pet huddled and trembling in a corner of the room. Consoling the animal, the husband opened the door and looked outside into the darkness. Nothing! He carefully went around the house. Nope! Thus the family was introduced to the ghost of Prospector Road.
He is a wily old cuss. This apparition is described by residents as rugged, big, stocky and attired in old pants, or work like clothes. Sometimes he has a canvas looking rain coat pulled over his head. To those who are able to see him, he appears semi-transparent, tall and craggy. Some say he is sporting a beard. to those who cannot see him, but endure his wrath, he is considered a pesky, annoying trickster. "The legend goes, and most folks believe, his purpose is to keep people away from a claim he never received.
You can continue reading this story and other stories about the Hauntings on Prospector Road and other Haunted Highways in "The Incredible World of Gold Rush Ghosts." True stories of Hauntings in the Mother Lode. Authored by Psychic Nancy Bradley.
---
Welcome to the world of Psychic, Investigative Reporter, and Author NANCY BRADLEY.

Sadly, Nancy Bradley passed away on November 2, 2015. It was Nancy Bradley who coined the phrase "GOLD RUSH GHOSTS", investigated and reported on the hundreds of ghosts and spirits that still haunt the Gold Rush Country of Northern California. From these 15 years of research and investigation came her two best selling books "Gold Rush Ghosts", and "Incredible World of Gold Rush Ghosts." Nancy stated "It is because of the extreme charged energy of the Gold Rush days, the tragedy of the many people who lost their lives unexpectedly, sometimes at the end of ropes, that they, the confused and wandering, stay, and hover, looking for closure. No place in the world has as many ghosts per capita as the Gold Rush Country of California, and that includes places known to be extremely haunted across the world, such as Whales, England, and our own witch-hunt country of New England. Yes, the Gold Rush Country is loaded with ghosts. And some are waiting for you to find them!"
Through years of research and expose', Nancy took her guests to the edge of Psychic Phenomena with her spooky, yet true, tales of sightings, hauntings, tales that will run goose bumps up the spines of the most skeptical of person to visit this site.
NANCY BRADLEY was considered one of the top 10 psychics in the world today. She wrote two best sellers on ghosts, a third to be out next fall, and written over 400 articles for National magazines, concerning ghosts, spirits, strange and unusual phenomena. Nancy gave tirelessly to people in stress, charities , as well as working with police and families that are victims of crimes across the world. A great animal lover, she tithed all events where animals are concerned.
More information about Nancy, or purchasing a copy of her books can be obtained at: P.O. Box 911, Diamond Springs, CA. 95619, or visit her website at www.nancybradley.org
---
Meet Flo, the National Hotel's Friendly Ghost
Jamestown, California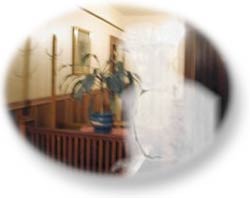 Our resident ghost, Flo, is a friendly ghost known for harmless pranks and mysterious goings on. The current owner, Stephen Willey, has been hearing stories of her presence for 28 years.
Flo generally stays upstairs in the hotel, seemingly favoring the rooms in the front of the building although she has, on occasion, been seen early in the morning downstairs, floating through the dining room and right through the walls.
Each of our guest rooms has a notebook, which welcomes guests to share their experiences and comments. There are numerous accounts of doors slamming, lights going on and off, clothing being dumped from suitcases onto the floor, and a woman's sobbing coming from the hallway in the middle of the night. Whoever she is, she adds a little extra spice to all our lives. Many a non-believer has left here with a whole new attitude. Our housekeepers says they have gone into rooms only to be greeted by icy cold air within the room even though the heater was working
For more information on the National Hotel click here!
---
The Argonaut - The Old Schulze House
Coloma, California
This house was built in 1916 by Charles Schulze for his daughter Daisy, who visited Coloma occasionally. Schulze had been a miner, blacksmith, teamster and mason. In 1886 he fell heir to the Sierra Nevada House and became a hotel keeper. He died in 1921. After Daisy Schulze's death, this house was used as a residence by her heirs.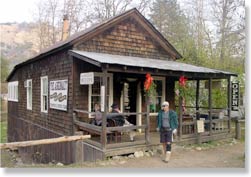 For the last several years the Schulze home has been used as a restaurant, coffee house, and all around social meeting place for local folk and weary travelers. Now called the Argonaut, owned by Debbie Zemanek and Silvia Hlavacek. Silvia is the owner that will greet you when you visit this historic site and share her moments of unexplained happenings as well as sightings from friends.
"It's the footsteps I hear that have become annoying" she says. "I will be working in the back of the store and hear someone come in the front. I holler out 'Be right there,' complete what I am doing, and race for the front to find no one in the place. This happens quite often. I have no answer for it, but it gives you a weird feeling."
Psychic Rosemary Dean picked up on one spirit immediately. "There is a wash woman here" she said. "Her name is Alice. Everyone seems busy to her and they do not pay attention to her. She comes here because she likes the smells, especially the coffee and espresso. She is a large woman and has a square face. She wishes someone would just acknowledge her. She is not a mean spirit, just lonely."
Dianne Parrish tells of her experience in the building. "I saw an older man walk over and stand at the window. He looked out, watching the trees. He was fat, and had gray hair and was wearing overalls. He seemed filmy when I saw him, not really transparent, but I knew something was weird about him. Then he just slowly disappeared." She held my hand. "I was afraid to tell anyone about him until now. I thought maybe I was losing my mind."
These are only a couple of ghost stories about the Argonaut I am sharing with you. If you would like to read about more ghost siteings, you can find them in the book The Incredible World of Gold Rush Ghosts. True Stories of Hauntings In the Mother Lode. Written by Nancy Bradley, Psychic. You can get information about Nancy on her website listed on this page. Or you can stop by the Argonaut and chat with Silvia, who knows, you may enter in to a ghost story of your own.
For more information on the Argonaut click here!
---
The Lady In Red
Auburn

I've often heard a story
of a lady dressed in red
some say that this lady
refuses to be dead

She sits in the parlor window
looking to the world outside
she waits for her true love
since she is to be his bride

She seems to be so patient
sitting on her wooden chair
she'll sit another century
for her love to meet her there

Somewhere is a cowboy
a ghost who's riding fast
little does he know
that he can never catch his past

For these two lovers lost in time
there is no end in sight
she'll keep waiting in her window
he'll keep riding through the night

Barbara Nichols

It is said that Sara, the Lady in Red, has been seen sitting at the window starring down the street.............just waiting. The story is that Sara's houses once sat on the spot where Nichols Quarters is now located. She still sits waiting for her friend Archie, she won't leave without him. Story courtesy of Nichols Quarters
The Mine House Bed & Breakfast
Amador City
This beautiful brick Victorian building was completed in 1868. It was constructed to house the offices of one of the highest gold yielding businesses in Amador County, the Keystone Mine. So rich was this find, no expense was spared in its development. When completed, a party was held for employees, officials, and townspeople. At the party eight well-equipped rooms were displayed proudly for all to see, for from this imposing structure all phases of the gold business would be conducted -- and so it would be for many years.
It was 1993 that Rose and Allen decided to purchase the Mine House and restore it back to its original Victorian glory. It wasn't long before they became aware of something extra they had not anticipated when the accepted the price for the historic building.
The first time Rose noticed anything strange was when she was in one of the downstairs bedrooms. "I heard footsteps going around the building. On the other side of the house, my mother, heard them too. We both walked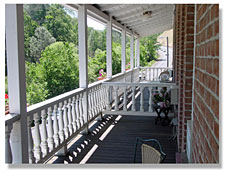 toward the footsteps thinking we would greet an early guest. We were both surprised when we met each other on the path. We were both unnerved because there was no one there but us. There was no place the person making the footsteps could have left the path and moved out of sight. There was just no one there".
On other occasions water would turn on in the bathroom sinks after people checked out and left the rooms a mess. It seemed the spirit was unhappy with the mess. There is also a young spirit who likes the Director's Room. She likes to mess up the beds and some days she will do this more than once. She has also been seen standing on the balcony waving, the question is to whom?
These are just a few of the strange occurrences that have taken place in this beautiful Victorian Bed and Breakfast. If you decide to visit you must ask Rose and Allen about what takes place in the beautiful garden that surrounds the two buildings. You can also read in more detail about these strange events in The Incredible World of Gold Rush Ghosts, by Nancy Bradley.
For more information on the Mine House Bed and Breakfast click here!
---
The Ghost of Sierra Nevada House
Submitted by the proprietors of Sierra Nevada House

Fact or fiction , there can be no doubt that over the years many people have claimed to have encountered the mysterious ghost that roams the floors of the Sierra Nevada House. There have been stories of Isabella, a small child, and seventeen Chinese mine workers buried in a collapsed mine behind the Sierra Nevada House. Perhaps if you decide to stay over for the night, you too will have a story to tell . One room seems to be more active then the rest. You could get the luck of the draw. Sweet dreams...
For more information on the Sierra Nevada House click here!
---
Historichwy49.com provides this material for the entertainment and enlightenment of our guests. Historichwy49.com does not confirm nor deny the possibility of supernatural activity along the Hwy 49 corridor, rather we leave that up to you, the individual!
Send us your "Ghosts of Gold" story! My Story!
We are accepting for possible publishing on this site, stories passed down through the generations, new stories, historical photos, new photos, and art pertaining to ghost stories about the "Gold Rush" or Hwy 49.