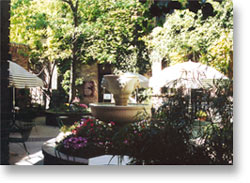 Bordered by the Middle Fork of the American and, Rubicon rivers to the north and the, Consumnes and South Fork Consumnes rivers to the south, it is easy to see why Placerville, "Old Dry Diggings," was such a popular spot during the Gold Rush as well as today.
Like so many other towns close to Coloma, the spot James Marshall discovered Gold, its founding and subsequential swell of population came almost overnight because of the Gold Rush. Originally called "Old Dry Diggings" the town later earned the infamous name of "Hangtown" for the overzealous use of hanging as a means of justice. Hangtown was center stage for the "Wild West." Later the name was changed to Placerville. On February 18, 1850 El Dorado County was created with Coloma selected as the first county seat. Only 7 months later California became the 31st state in the union. In 1854 the county seat was moved to Placerville where it has remained for 150 years.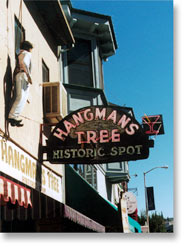 Placerville sits on Hwy 50 in the foothills and serves as the gateway to South Lake Tahoe. Take a walk down Main Street pursuing the quaint shops of Historic Downtown Placerville, or visiting one of the many historical sites
Today Placerville's healthy economy is in part due to its diverse industries including; Gold, lumber, lime, slate, pears, apples, cherries, cattle, sheep, wine grapes, wineries, and Christmas trees.
Points of Interest
• Hangman's Tree Saloon
• Combellack Blair House
• City Hall, 1857
• Justice Court, 1863
• Pony Express Marker
• Hangtown Gold Bug Park and Gold Bug Mine
• Cary House Hotel
• U.S. Forest Service Institute of Forest Genetics

Things to Do
Shopping, historical sights, Apple Hill, Farm Trails, Wineries, hiking, biking, boating, kayaking, camping, fishing, water skiing, Annual Wagon Train


For more information on picture perfect El Dorado County and its diverse recreational opportunities click on logo

Headed to Lake Tahoe? Need Groceries?
www.grocerydirect.net

Facts & Stats

Population:

15,714

Elevation:

2,000 ft.

County:

El Dorado County

Climate:

Winter 30 - 40 degrees
Summer 75 - 95 degrees
Avg. rain: 36.74"
Avg. snow: 5.5"

Amenities:

Airport


Transportation
El Dorado Transit - 530-642-5383
or 888-246-2877

El Dorado Transit
Dial-A-Ride - 530-642-5383
Greyhound Bus Lines - 800-231-2222
Placerville Airport. - 530-622-0459

Newspaper


editor@goldcountrytimes.com

Mountain Democrat
www.mtdemocrat.com
530-622-1255

Rattlesnake Press
Poetry with Fangs!
rattlesnakepress.com