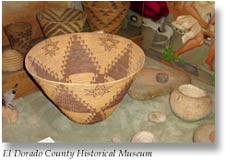 Early
El Dorado County
History
El Dorado: 'The Gilded One" - Spanish
Travel to Northern California by sea and your dreams begin in San Francisco with the beauty of its Bay continuing on through a wondrous land of fields, rivers, forest, and mountain lakes. The area was first settled by Native Americans who came through Alaska from Asia long ago. The Bay was undiscovered by Europeans until 1770 when Gaspar de Portola's expedition moved north from Mexico and San Diego to find San Francisco Bay by land. By sea there is often fog, so Mariner Juan Cabrillo exploring Alta California missed it in 1542. San Francisco always had a mystic attraction, but the adventurous followed the rivers inland and into the Sierra Nevada Mountains to explore or prospect for gold.
Many from the East made a tedious overland trip to Northern California through deserts and mountains and sometimes snow. Jedediah Smith was the first to do so leading a fur trapping party from Santa Fe in 1826. He followed the Humbolt River and Truckee River to the Sacramento River.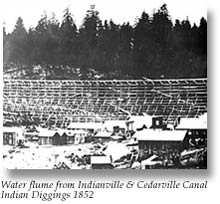 People began to settle the valleys and foothills. John Sutter established New Helvetia at the confluence of the American and Sacramento River in 1839. There were few trees since Sacramento is located in a flood plain. Before they erect levees the settlement was flooded in 1849 and 1850.
By 1841, emigrants to the West arrived overland in significant numbers, although most went to Oregon. The Bartleson-Bidwell party that included Charles Weber followed the Humbolt River and found a pass thru the Sierra and down the Stanislaus River to the San Joaquin Valley.
John C. Fremont and Kit Carson crossed the Sierra up the Carson River and into El Dorado County to followed the South Fork of the American River to Sutter's Fort in March 1844. Indians had advised the party to follow the crest of ridges to avoid the deep snow in the ravines.
Brigam Young's Mormon settlers escaping from the midwest, headed for California and crossed the Missouri River for winter quarters at Omaha in 1846. Five hundred volunteered for the Mexican War and they trained at Fort Leavenworth. The Mormon Battalion arrived at the San Diego Mission January 29, 1847. In July the Battalion was mustered out of service; part went to Fort Sutter and part to Salt Lake. When Brigam Young reached Salt Lake in July 1847, the emigrants settled there.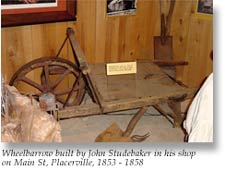 August 13, 1846 James Marshall becomes chief carpenter for American military in Los Angeles. He sets out for Sutter's Fort May 6, 1847 to look for a sawmill site for John Sutter. On August 28th work commenced at Coloma on the South Fork of the American River (El Dorado County). On September 6th, Mormons at Fort Sutter are hired to work at the sawmill.
The story of gold became reality at Coloma when James Marshall made an observation at the saw mill. On January 24, 1848, Marshall found gold in the sawmill tailrace on the banks of the South Fork. When the word spread in California and the rest of the West, it was a gold rush to the empire county. News was slow to reach the east, but in 1849 the migration continued by overland trail or ship. In November 1849 alone, 600 vessels entered San Francisco Bay. The influx into California by the end of 1849 was 39,000 by sea and 42,000 overland. Up the river they came, the first river steamship "George Washington" arrived at Sacramento August 12, 1849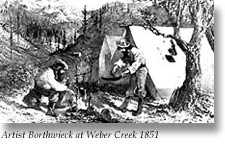 That summer of 1848, under Captain Weber's direction, indians labored with crude tools to wash gold from Weber Creek. Two miles away just over the ridge while herding cattle, vaqueros stumbled across the rich dry diggings of present day Placerville. Prospectors from Oregon soon join them.
At Dry Diggings in October 1849, 10,000 men were camped in narrow ravines and hundreds from all over the world had already left with enough gold for a lifetime -10 thousand dollars. The nickname "Hangtown" got started after five outlaws of the Owls Gang robbed a French Trading Post located in Log Cabin Ravine (Bedford Avenue) in the Mother Lode mining district. They didn't get away with that and were flogged 39 times (40 often was fatal). Three were recognized as fugitives wanted for murder on the Stanislaus River and were tried and hung by 2000 miners at an Oak Tree at Elsner's Hay Yard beside Hangtown Creek.
The United States Congress on September 9, 1850 approved California as the 31st State. Coloma was voted as first county seat, but four years later it moved to Placerville.
Death penalty. The first two men convicted of murder in District Court of El Dorado County were executed November 3, 1854 by hanging in Coloma and it was witnessed by 6,000 people.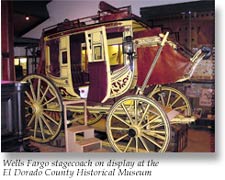 County roads were developed. Old Emigrant Road entered the California Territory from Utah Territory at Genoa in Carson Valley, Nevada. The road went south of Silver Lake to Sly Park 14 miles east of Placerville, and on to Diamond Springs, Shingle Springs, Clarksville and White Rock into Sacramento County. This is the Mormon Carson Emigrant Trail and can be driven via Highway 88 near Genoa through Hope Valley (Junction Highway 89) past Silver Lake to Mormon Emigrant Trail road at Iron Mountain Ski Resort turnoff and on to Sly Park and Sly Park Road to Pleasant Valley Road to the town of El Dorado, the junction with Highway 49 South.
Also, heavily traveled was the old Coloma Road from Sacramento to Folsom, Mormon Island, Green Valley, Uniontown, and Coloma. A ferry across the South Fork of the American River was replaced by a truss bridge in 1851, although there were earlier bridges in 1849 washed away in floods. By 1852, 22 road districts were established and supervisors were appointed to care for each of the specific roads.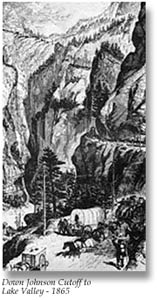 Crossing Highway 49 in El Dorado County, Highway 50 is a special story. John C. Johnson blazed a trail from Dry Diggings over Echo Summit to Lake Valley at South Lake Tahoe in 1848. Johnson's Cutoff was the most direct and quickest way over the Sierra. Stagecoaches crossed in 1857. Improved in 1858, Hawley Grade was built by the County down Echo Summit to Luther Pass Road. Just in time too, because discovery of silver in Nevada's Comstock in 1859 led to a head-to-tailgate stream east into the valley. Cargo traffic eased after the Central Pacific Railroad (Union Pacific) crossed Donner Pass in 1867. But in the winter snow closed the road, except for Snowshoe Thompson who hiked and used homemade snow skates to carry the US Mail back and forth between Placerville and Genoa, Nevada. Pony Express rider galloped over the route in 1860-61. In 1860 private operators completed the road as a tollway. The State Bureau of Highways was created in 1895 and purchased the road making it the first state highway. Paving was done in 1923.
Lake Tahoe was initially named Mountain Lake (some say Bonpland) by Fremont and renamed Lake Bigler (after the governor) in 1853. Tahooee is Washoe for big water and "Lake Tahoe" was the popular name since 1859 and became official in 1945. By 1865 schooner sailing craft were used by tourist. A side-wheeler Gov. Stanford connected Central Pacific Railroad at the north to Benton's Stage in the south.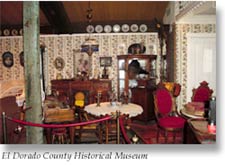 El Dorado County has the finest water supply in the country. Clear cold water from snow melt in the mountains and ample rain at lower elevations provide year round streams and springs. Water ditches were first used in Coloma in 1850. By 1856 other ditches and canals followed: including Cedar and Indianville Canal, Cosumnes and Michigan Bar Canal, Cosumnes and Prairie Canal, El Dorado and Georgetown Ditch, Eureka Canal, Mosquito Canal, Negro Hill Ditch, Natoma Ditch, Pilot and Rock Hill Canal, and South Fork Canal. Also; Chilean Bar Canal, Coray & Co. Canal, Coloma Canal, Deer Creek Canal, El Dorado Canal, Gold Hill Canal, Iowa Canal, Union Flume, and Weber Creek and Coon Hollow Canal provided water.
Average annual rainfall in Placerville is 39.52 inches. Driest year is 1976 with 15.86 inches and the wettest year is 1980 with 78.13 inches. The most rain falls in January and averages 7.47 inches.
Farming. The Hodge Brothers began farming in 1849 with potatoes and vegetables near Coloma and Union Bar on Greenwood creek. Statistics for El Dorado County by 1855: wheat 450 acres, barley 340 acres, oats 387 acres, and hay 1,750 acres. Fruit: apple 1,608 trees, pear 34 trees, peach 1,159 trees, plum 40 trees, cherry 40 trees, fig 12 trees, apricots 15 trees, quince 25 trees, and grape 3,000 vines. Stock 9,889 animals.
First hospital. The Broadway Hotel in Upper Placerville was rented for use as a County hospital. During the Quarter ending December 1856, 36 were treated and four died; Dropsy of the Chest -1, Bronchitis -1, Phthisis -1, and one unknown cause. In 1862 a new facility was built on Quartz Hill.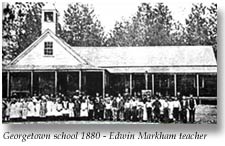 Schools. The first schools were private and Mrs. Day was first in 1852 and Miss Parlow's was next in 1853. By 1857 there were 1,812 public school students in twelve townships.
Railroad. The Placerville & Sacramento Valley Railroad extended from Folsom to Shingle Springs in June 1865.
El Dorado County Population in 1870
| | | | | | |
| --- | --- | --- | --- | --- | --- |
| Census: | Caucasian | Chinese | Native American | African | Japanese |
| 1870 | 8574 | 1514 | 101 | 89 | 101 |

Historichwy49.com wishes to thank historian, Bill Thornhill for his submission of El Dorado County history... We suggest you visit Doreen and Bill's Bed and Breakfast, the Chichester-McKee House at 800 Spring St. in Placerville, CA. Visit their website at:
www.innlover.com
---

Of Special Interest!

The Old Miners' Cabin
Reprinted from an article by La Vonne Strohm

After a visit to the Old Miners' Cabin you will find yourself thinking of it often and how adventuresome life must have been during the Gold Rush Era. What a wonderful piece of history still intact for use today.

This miner's cabin was built in 1879 in Morey's Hole near Grizzly Flats, El Dorado County. The first owner (and builder) of the cabin is listed July 25, 1879, in El Dorado county records, as one Michael Martin. Paolo Sioli in his "Historical Souvenir of El Dorado County, California," includes a biography of Michael Martin, who emigrated from Detroit, Michigan, to Diamond springs in 1850 at the age of 10. According to Sioli, he arrived there safely and mined at various places in the Sierra until 1858 when he came to Grizzly Flats, where he began farming and "teaming." He married Lucy McAffee on January 1, 1877, and they had three children, George A., Lucy and Nellie.

In 1903, one of the Martin descendants etched, "March 28, 1903, Fred Martin," in a windowpane in the cabin. That glass pane remains unbroken and legible, today. The property passed in 1910 to Lucy Martin.

The cabin was rebuilt around 1932 but slowly deteriorated over the years until November 2001, when purchased by a couple whose hearts are still back in the gold rush days. Laurie and Scott Behrens purchased the property and began exploring. Because of their love for the cabin and the history of it they decided to restore it for use. Today it is a combination museum and a unique vacation site. Scott has restored some of the old pieces of furniture and he and Laurie have scavenged many artifacts from this property, the town close by and traded with neighbors for other old items to fill this cabin/museum such as an old concrete-lined Wells Fargo strong box. You can still find the outhouse, though locked and not accessible for use.

The Behrenses have made a few concessions for comfort and safety. Now the site actually receives running water from the Grizzly Flats Community Services District, and a propane tank supplies the hot water heater, camp stove and hanging lamps, A claw-foot bathtub and flush toilet (though not a bathroom) add comforts for guests today. This is one of the few areas left in the United States that has not yet received electrical power!

On one of the cabinets, carefully laid out for guests to see, is a notebook telling many stories of the history of Grizzly Flats and the old house.

After a visit to the Old Miners' Cabin you will find yourself thinking of it often and how different life was during the Gold Rush Era. What a wonderful piece of history still intact and available for use today. Click here to visit the Old Miners' Cabin advertisment.