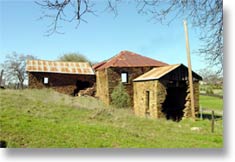 Henry Angel, of Rhode Island, a shopkeeper who started a trading post in the camp during the Gold Rush of 1848 has the honor of having the town of Angels Camp named after him. As with all the extraordinary towns along Historic Hwy 49, Angels Camp has many stories of pioneers striking it rich. One example, a vein of gold bearing quartz was discovered accidentally by a man with the unique name of Bennager Raspberry. While out hunting one afternoon near Angels Camp, Bennager took some time to clean his gun, and his ramrod became lodged in the barrel. Thinking the best way to free the stuck ramrod was to shoot the gun, he aimed the gun at a nearby squirrel and fired, missing the squirrel and sending the ramrod into the bushes. When he extracted the ramrod he noticed on the tip a small piece of quartz rich with gold. That afternoon he dug up $700 worth of gold using only his ramrod as a shovel. The following day, better prepared, he pulled out $2,000 worth of gold and $7,000 on the third day.
At one point in Angels Camp's early history there were as many as 4,000 miners working the claims. The Surface gold however, quickly diminished, leaving only the hardrock mining industry which flourished until recently.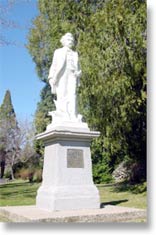 In the fall of 1865 a young Mark Twain, who was at the time living in a small cabin on "Jackass Hill", overheard a story in a hotel bar, and later penned the now famous "The Celebrated Jumping Frog of Calaveras County". It was the literary piece that made Mark Twain a household name, however, it was not until 1928 that the Angels Camp Boosters Club held the first celebration in honor of the first paving of Main Street.
For Thousands of years Native Americans of the area held sacred the ancient Giant Sequoias, located in "Calaveras Big Trees State Park", a secret later discovered by A.T. Dowd, who in 1850 happened across the grove. Shortly after Dowd shared the discovery with the world, the "Mammoth Grove Hotel" was built to allow travelers the opportunity to stay and visit the amazing attraction.
In 1950 the two stands of ancient Redwoods came under the protection of the State Park system. The park covers some six thousand acres of forest on both sides of the Stanislaus River, and today offers camping, hiking and bicycling those who wish to partake of this natural wonder.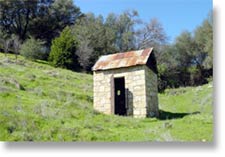 Calaveras county is famous for its caverns that have been visited and explored since 1850. Today there are three caverns; Moaning Caverns, Mercer Caverns and California Caverns where those with an adventuresome spirit can be lowered into the depths of the earth.