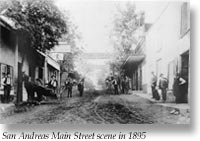 Early
Calaveras
History
Calaveras County, one of the original 27 counties of the State, was organized at the 1849-50 session of the California State Legislature. At one time it embraced a portion of Amador, Alpine and Mono Counties. In 1854, Amador County was created from Calaveras and El Dorado counties, and parts of Calaveras County was taken to form Fresno County in 1856, Mono County in 1861 and Alpine County in 1864.
Calaveras is a Spanish word meaning skull. This name was first given to the river because of the great quantities of human skulls found along the lower reaches of the river.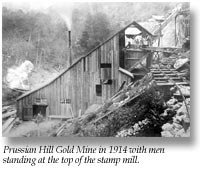 The first officers of the county were: William Fowle Smith, County Judge; Colonel Collier, County Clerk; A. B. Mudge, Treasurer; H. A. Carter, Prosecuting Attorney. Pleasant Valley, better known as Double Springs, was designated as the first county seat. Court was first held in a large tent, and later a small court house was erected from camphor wood imported from China. The old building is still standing at Double Springs. The county seat was moved to Jackson in 1850 where it remained until 1852. (Jackson was at that time in Calaveras County.) In 1852 the county seat of Calaveras county was moved to Mokelumne Hill where it remained until 1863. After an election in 1863 San Andreas was declared to be the county seat. Legal action followed this election, and it was not until 1866 that the county seat was actually moved to San Andreas where it has since remained.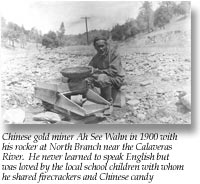 The Calaveras Chronicle, the first weekly newspaper published in California, was first published on October 28, 1851, at Mokelumne Hill.
The first grove of Big Trees, "Sequoia Gigantea," discovered in California was the Calaveras Grove of Big Trees. These were located in 1852 by A. T. Dowd, a hunter for the Union Water Company which was at that time building an aqueduct from the Stanislaus River to Murphys.
The largest gold nugget found in the United States was taken from the Morgan Mine at Carson Hill in November, 1854. When weighed on Adams Express Company's gold scales in Stockton, it balanced the scales at 214 pounds and eight ounces, Troy.
The first three story building erected in the interior of California was in Mokelumne Hill.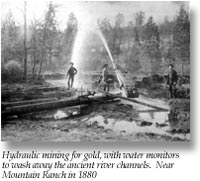 Calaveras County is famous for its lode and placer mines, and for many years it was the principal copper producing county in California. Cement production from its vast limestone deposits has become one of the county's major industries in recent years.
The following places were early day mining communities: Angels Camp, Fourth Crossing, Mokelumne Hill, Calaveritas, Old Gulch, Douglas Flat, Vallecito, Murphys, Sheep Ranch, San Antone, Rich Gulch, Campo Seco, Copperopolis, West Point, Glencoe, Middle Bar, Carson Hill, Robinson's Ferry, Jesus Maria, Mountain Ranch, El Dorado, North Branch, Camanche, Railroad Flat, Blue Mountain City, Telegraph City, Petersburg, Gwin Mine and Jenny Lind.
John W. Robinson and Stephen Mead were licensed by the Court of Sessions of Calaveras county on August 13, 1850 to maintain a ferry on the Stanislaus River at Robinson's Ferry. L. Martin and Aristede L. Pench were licensed to maintain a ferry at Middle Bar on the Mokelume River on June 5, 1850 by the Court of Sessions of Calaveras County.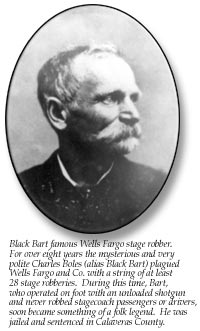 The Calaveras County
Historical Society
The Calaveras County Historical Society has one of the best photo collections in the Mother Lode. These photos are available to the public for research and limited private use. We only require a photo credit. Feel free to come by the office to browse through our collection.
At the Historical Society we would gladly help you with research from our materials. We specialize in pioneer families, towns, schools, and mining. There is no charge for the use of our materials, however we do ask for a donation.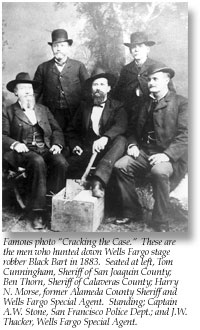 The Historical society also manages the County Museum located in San Andreas on Main Street. The museum complex includes the historic County Courthouse, Hall of Records, and jail. The notorious Wells Fargo stage robber Black Bart was held in this jail and sentenced in our courtroom. Our museum displays also include artifacts pertaining to Native Americans, local pioneers, gold mining, minerals, and the Chinese. We always appreciate donations of local County artifacts and photos. The museum is open daily from 10-4. We also offer scheduled guided tours for groups and schools.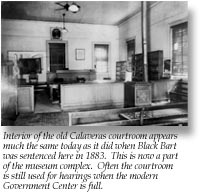 The Museum complex also includes a Bookstore and Gift Shop. Our Bookstore specializes in local history. We also have a wide selection of Gold Rush history books. Our gift selection includes maps, CD's, tapes, playing cards, post cards, magnets, T-shirts, shot glasses and much more. We have videos on Logging, Railroading, and the Gold Rush. Please stop by when touring the Mother Lode.
---

Historichwy49.com wishes to thank Elizabeth Braydis, Cate Culver and the Calaveras County Historical Society for their help and acknowledges the tremendous accomplishments in creating and maintaining one of the finest museums in the Gold Country... You do not want to miss the County Museum located in San Andreas on Main Street. Photos on this page courtesy of the Calaveras County Historical Society.