Calaveras County's Pioneer Cemeteries
While meandering through the cemeteries, you can envision the excitement and fear these early pioneers must have felt while gathering the last pieces of life they were accustomed to before setting off to uncharted territories in their search for gold. What difficulties did they encounter trying to build a new life while erecting the towns along Hwy 49, each filled with it's own trials and tribulations. Wanting to read every tombstone, hoping to fill in some of the blank spaces our imaginations have created about the hardships and heartbreaks families endured while trying to settle one of the most magnificent areas in California, the Mother Lode, Gold Rush Country. Who were these people and where did they come from, the people who built these impressive places to worship, these grand homes in which to live and raise their families. The school houses made to educate their children, dreaming of a better life for their young ones, the reason they traveled to these untamed areas in the first place. Because of the many men, women and children who decided to stay in Calaveras County, we can enjoy the rich gold rush history through the many buildings and cultural attractions they created out of necessity but left behind for our enjoyment and education.

Calaveras County has 40 cemeteries, maybe more. You are encouraged to visit each and every one of the cemeteries in Calaveras County, for historical study, genealogical research or to travel back in time while enjoying a walk today. Please be respectful of those buried there, do not remove any items and because of the fragile nature of the tombstones please do not disturb them. For information of cemetery locations, contact the Calaveras County Archives, Mon - Thur. - Fri. 8:30 - 4:30 (closed 11:30 -12:30 Fri. only). 46 N. Main St. San Andreas. Info: 209-754-3918
Angels Camp
• Angels Camp Museum - 753 S. Main Street (Hwy 49) - 209-736-2963
Repository of Gold Rush memorabilia, a blacksmith shop, gold excavating equipment, and a carriage barn filled with horse drawn travel means from Angels Camp history. Summer hours: daily 10am - 3pm Winter hours: Wed.- Sun. 10am - 3pm
• The Altaville School - North Main Street Built in 1859 with funds from a dance. The "Red Brick" schoolhouse has been restored to its original appearance and is open to visitors daily.
• Historic Jumping Frog Jubilee had it's beginning in 1928 and continues today in conjunction with the Calaveras County Fair.
• Historic Walking Tour - Visit 52 historic buildings and sites. Pick up map at Calaveras County Visitors Center.
Towns Close By
Arnold
During the Gold Rush many people came to Calaveras County in search of gold but there were those who would find wealth in other industries as well. Arnold was made up of a logging industry with the first mill opening in the 1860's. It was the main industry until 1962 when the Blagen Mill, located in White Pines closed. Arnold received its name from Bernice and Bob Arnold who came to Arnold in 1927. They built the Ebbets Pass Inn and Restaurant which was completed in 1939. This is also the same year Highway 4 became a State Highway. You will find year round recreation in Arnold, located in the Stanislaus National Forest, as well as unique shopping, fine dining and many special events.
• Sierra Nevada Logging Museum - A six acre museum site with artifacts, kiosk and picnic tables and BBQ's. Located one mile from Arnold. Info: 209-795-6782
• Calaveras Big Trees State Park Visitor Center - Natural history exhibits of the area and of the giant Sequoia redwoods. Open daily in the summer. Located north of Arnold. Info: 209-795-3840
• Tropical Rainforest Museum - 5113 Commercial Way, Hathaway Pines Info: 209-795-3145
Avery
A scenic small town located on Hwy 4, east of Angeles Camp, close to wine country and skiing. Avery has been a stopping off place for over a century. The Avery Hotel Restaurant and Saloon was known as the "Half Way House" because of its location between the gold fields of Murphys and the giant Sequoia groves now known as Calaveras Big Trees State Park.
• Avery Hotel Restaurant and Saloon - Built in 1853 and the oldest continually operating hotel in Calaveras.
Copperopolis
Known for it's Copper Mines in the 1800's. 19 million pounds of copper were mined during the 1860's, making Calaveras County second in national production of copper. When visiting Copperopolis you can enjoy restored historical artifacts and workshop sites.
Dorrington
Located on Hwy 4 between Murphys and Bear Valley. The Dorrington Hotel and Restaurant was built in 1860 and was a stage coach stop on the Big Trees-Carson Valley Toll Road that served as a depot for stockmen and as a summer resort for international guests visiting the giant Sequoia redwoods. Spring time proved to be very cold, therefore Dorrington's previous name of Cold Spring Ranch until 1902.
• The second largest Sugar Pine in the world, measuring 32 feet in circumference and 220 feet tall.
Mokelumne Hill
Founded in 1848 and one of the richest towns along the Mother Lode, many fortunes were made in Mokelumne Hill. It was the county seat in the past and known as one of the most violent towns in the Mother Lode. Long ago the town hosted a population of 15,000, today with a much smaller population, you will still enjoy this historic town with many of its original buildings and an old west atmosphere. Mokelumne Hill is located on Hwy 49 between Jackson and San Andreas.
• Mokelumne Hill History Society -Archives and exhibit of historical memorabilia from the Mokelumne Hill area, once populated by nearly 10,000 people. Summer hours: 11am - 3pm Sat. and Sun. closed in winter. 8367 East Center Info: 209-286-1770
• Historic Walking Tour - Visit 41 historic buildings and sites. Pick up map at
Calaveras County Visitors Center.
Murphys
Named for Daniel and John Murphy who settled in the area in 1848. Founded as a trading post the brothers did some very sagacious trading selling supplies at inflated prices from a tent they set up. They also used the local Indians for labor for their mining operations. These brothers were rumored to be millionaires before they turned twenty five. When A.T. Dowd discovered the grove of Giant Sequoia Redwoods, only 15 miles from Murphys, he put Calaveras on the international map. With this new discovery came an influx of travelers to this area. To accommodate all these people, in 1855 the Sperry and Perry Hotel (now the Murphys Historic Hotel and Lodge) was built in Murphys. On the old hotel register names such as Mark Twain, Horatio Alger, Ulysses S. Grant, Charles Bolton, aka Black Bart as well as Susan B. Anthony were some of the infamous people to visit this pristine area. Today Murphys is a quaint town filled with art galleries, fine dining, an assortment of boutiques, bookstores, and so much more. Delight in the seven wineries in the immediate area with tasting rooms and other facilities that are open to the general public Experience the history through museums and historic buildings dating back from the 1800's. A tourists haven in the middle of a recreational area filled with summer and winter activities, an experience waiting to happen.
• Murphys Historic Hotel and Lodge
• Murphys Old Timers Museum - Dedicated to the preservation of the history and artifacts of Murphys and its generations since the Gold Rush. Open Friday through Sunday 11am - 4pm. 479 Main Street Info: 209-728-1160
• Heritage Museum - Native American artifacts, mining artifacts, gold nuggets, see the larger than life size mural of California's early miners. Visit the vault which displays a 44 pound gold specimen, the largest gold crystalline in the world. Open daily 11am - 5:30pm. 1894 Six Mile Road Info: 209-728-1251
• Historic Walking Tour - Visit 55 historic buildings and sites. Pick up map at Calaveras County Visitors Center.
San Andreas
Named for St. Andrew (San Andreas) Roman Catholic Church, erected in 1852. Built with canvas and a simple cross over the door designating it a church, it was the first church built in this town. Mexican Gold Miners settled San Andreas in 1848 and by 1850 over 1000 tents peppered the hillsides. San Andreas was a gold producing town sometimes hampered by the lack of water in the channels until the miner's ditches were completed. In August 1852 the large San Andreas Nugget was found in a claim north of where the town is located and sold to the Wells Fargo company for $12,000. Over $50,000 in gold dust was shipped in 1859. Two notorious names come to mind when you think of San Andreas and the gold rush, Black Bart and Joaquin Murieta. The jail that held Black Bart, aka Charles Bolton for a crime he committed at Funk Hill, still stands and is a part of the Calaveras County Historical Museum Complex. In 1866, the County Seat was moved to San Andreas from Mokelumne Hill. Today you can still enjoy the history of Hwy 49 and historic buildings in San Andreas.
• Calaveras County Museum and Archives - Depository and exhibit hall for artifacts relevant to the history and the people of Calaveras County. The site of the historic jail that held "Black Bart." Open 10am - 4pm daily except major holidays. Historic County Courthouse, 30 North Main Street Info: 209-754-3918 or 209-754-1058
• Calaveras County Historical Society - Dedicated to the preservation and restoration of buildings and other private holdings that were of significance to the history of Calaveras County. Also the home of genealogical records for the County. Open weekdays. Historic County Courthouse, 30 North Main Street Info: 209-754-1058
• Historic Walking Tour - Visit 42 historic buildings and sites. Pick up map at Calaveras County Visitors Center.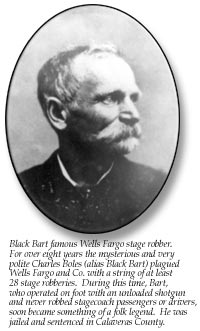 The Calaveras County
Historical Society
The Calaveras County Historical Society has one of the best photo collections in the Mother Lode. These photos are available to the public for research and limited private use. We only require a photo credit. Feel free to come by the office to browse through our collection.
At the Historical Society we would gladly help you with research from our materials. We specialize in pioneer families, towns, schools, and mining. There is no charge for the use of our materials, however we do ask for a donation.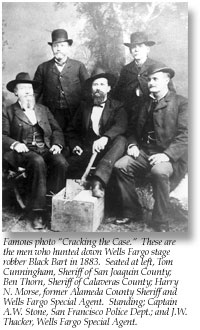 The Historical society also manages the County Museum located in San Andreas on Main Street. The museum complex includes the historic County Courthouse, Hall of Records, and jail. The notorious Wells Fargo stage robber Black Bart was held in this jail and sentenced in our courtroom. Our museum displays also include artifacts pertaining to Native Americans, local pioneers, gold mining, minerals, and the Chinese. We always appreciate donations of local County artifacts and photos. The museum is open daily from 10-4. We also offer scheduled guided tours for groups and schools.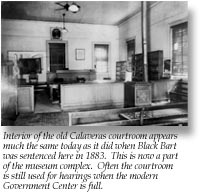 The Museum complex also includes a Bookstore and Gift Shop. Our Bookstore specializes in local history. We also have a wide selection of Gold Rush history books. Our gift selection includes maps, CD's, tapes, playing cards, post cards, magnets, T-shirts, shot glasses and much more. We have videos on Logging, Railroading, and the Gold Rush. Please stop by when touring the Mother Lode.
Historichwy49.com wishes to thank Elizabeth Braydis, Cate Culver and the Calaveras County Historical Society for their help and acknowledges the tremendous accomplishments in creating and maintaining one of the finest museums in the Gold Country... You do not want to miss the County Museum located in San Andreas on Main Street. Photos on this page courtesy of the Calaveras County Historical Society.
Valley Springs
In 1885 Valley Springs was the furthest west you could travel on the San Joaquin and Sierra Nevada Narrow Gauge Railroad. The railroad bringing freight and passengers from the Valley and beyond. Once reaching Valley Springs horses and wagons were the means of transportation. But in 1888 the Southern Pacific Railroad bought the line and rail travel was extended further than the County Seat in San Andreas. The area now is well known for it's recreational opportunities. Fishing, boating and camping are year round activities.
West Point
According to a historical landmark on Hwy 26 near Main Street in West Point, the area was named by Kit Carson as he traveled with Captain John Fremont while searching for a pass over the Sierra Nevada Mountain Range. In the 1850's a group of men searching for gold in the Mother Lode started West Point declaring it to be an isolated area and on the road to nowhere. West Point is located on Hwy 26 north of Mokelumne Hill, close to Pioneer on Hwy 88.