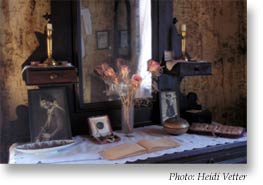 Prior to the settlers, who came in the 1850s to raise their children and farm rather then seek their fortunes panning for gold, the Mi Wok, Mono and Chuckchansi nations forged a strong heritage for the California Native Americans in this area.
Gold was discovered in Coarsegold around 1850 by a group of Texas miners in the Coarsegold River. Mining proved to be a profitable venture, with more than $90,000 in gold taken from the area during the Gold Rush. But in Oakhurst or Fresno Flats as it was known then, what proved to be more profitable was providing supplies to mines and lumber companies in the surrounding area.
In 1851 a group of Native Americans were being moved from Yosemite by Captain Burney's Co. During the night they escaped and several years later reestablished a rancherie below the old Ahwahnee Sanitorium. Here they built a round house in the 1860s for ceremonial purposes The round house was destroyed and then rebuilt in 1904.
In 1886 a flume was built to move lumber from the Sugar Pine Lumber Co. to the city of Madera. The run from the High Sierra to the valley was a stretch of 63 miles. The Famous flume was in use as late a 1932.
The area is also famous for it's Granite production. Granite from the region was used to rebuild San Francisco after the famous earthquake.
The California flag proudly displays a bear as it's symbol... Yosemite,(originally named the Native American word "Llzumati" which means Grizzly Bear), and the surrounding area is reported to have once been home to 25,000 Grizzly Bears. By 1924 they had all been slaughtered. By 1929 the last of California's Jaguars, Pronghorn Antelope and Elk had been decimated. Even with the loss of so many amazing animals, today Yosemite and the entire region is still teaming with many varieties of wildlife. The area also boasts several stands of the largest known tress in the world... the Giant Sequoia.