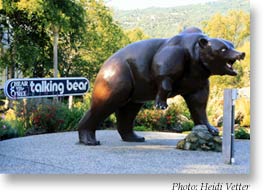 Oakhurst is the Gateway to the most beautiful park in the world.... Yosemite. Oakhurst, formerly Fresno Flats in the 1850's is only 12 miles from the southern entrance of Yosemite.
Once the Mi Wok, Mono and Chuckchansi people graciously lived and flourished, surrounded by the breathtaking scenery of the rolling Sierra Foothills peppered with oak and pine trees. In the 1850's it became known as Fresno Flats providing supplies to mines and lumber companies in the surrounding area. Today Oakhurst, the southern most starting point of Historic Hwy 49, is a town of 18,000 people.
There is plenty for tourists to do in Oakhurst with a wide variety of lodging from B & B's to full service hotels. Shop for antiques, or browse the art galleries boutiques, book stores, gift shops or dine in the many restaurants that abound in this picturesque historic town. You will want to tour Fresno Flats Historical Park where numerous historical buildings have been preserved and filled with exhibits of Oakhurst's history in the making. The Little Church on the Hill is another must on every visitors list. Located in the center of Oakhurst at Oakhill Cemetery, the church is the only remaining wooden structure of its era in the entire region. Nearby visitors can try their hand at gold panning in Coarsegold, visit the Wassama Round House in Ahwahnee or catch the Chowchilla world famous Western Stampede every April. Oakhurst's history is forever linked to the many small towns nearby so plan enough time to take some side trips.
There is recreation for everyone at every level in and around Oakhurst in Madera County. Skiing at Badger Pass, cross-country skiing, snowmobiling, great watersports at Bass Lake, fishing, camping, golf, or take a train ride on the Yosemite Mountain Sugar Pine Railroad.
A great place to start your Historic Hwy 49 adventure!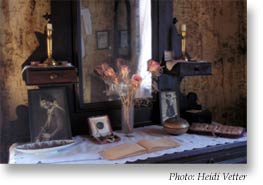 Points of Interest
• Yosemite
• Bass Lake
• Sierra Mono Museum
• Wawona Hotel and Historic 9 Hole Golf Course
• Mono Indian Museum
• The Cunningham School
• Wassama Round House
• Fresno Flats Historic Park
• Yosemite Gallery and Indian Territory
• Little Church on the Hill
• Children's Museum Of The Sierra
• The Talking Bear
• Sierra Vista Scenic Byway
• Yosemite Gallery and Indian Territory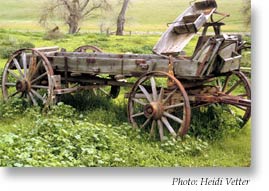 Things to Do
Fishing, Hiking, Boating, Ice Skating, Skiing, Camping, Gold Panning,

Biking, Golfing, Horseback Riding, Backpacking, Canoeing, Kayaking, Swimming, Water Skiing, Live Theatre, Shopping, Wine Tasting, The Pizza Farm, Mammoth Digs,

Newspaper

| | |
| --- | --- |
| Sierra Star | 559-683-4464 |
| The Fresno Bee | 559-441-6111 |
| Business Journal Newspaper | 559-490-3400 |


Transportation
Airports


| | |
| --- | --- |
| Fresno - Yosemite Int'l Airport | 559-498-4095 |
| Madera Municipal Airport | 559-674-6958 |
| Mariposa - Yosemite Airport | 209-966-2143 |

Railway


| | |
| --- | --- |
| Santa Fe Railway | 800-825-1654 |
| Southern Pacific | 800-822-9601 |
| Amtrak | 800-872-7245 |

Bus


| | |
| --- | --- |
| Greyhound | 800-231-2222 |
| Yosemite Sightseeing Tourist Transportation | 559-877-8687 |

Local Transportation


| | |
| --- | --- |
| Dial-A-Ride | 559-275-1296 |
| Senior Citizen Bus | 559-683-4258 |

Highway Conditions


Caltrans

800-427-7623

California Highway Patrol

559-966-3656

After hours and Holidays

209-357-6922

Yosemite Road and Weather Conditions 24hr

209-372-0200
ext. 21

Weather Report


| | |
| --- | --- |
| National Weather Service | 559-291-1068 |
| U.S. Forest Service | 559-658-7588 |
| Yosemite Snow Conditions 24-hour | 209-372-1000 |

Facts & Stats

Population:

18,000

Elevation:

2,300 feet

County:

Madera County

Climate:

Winter: 30 - 67 degrees
Summer: 55 - 93 degrees
Rainfall: 33 inches Snowfall: 0-12 inches annually

FYI

North Fork in Eastern Madera County, is the official geographical center of California.

---

Yosemite Falls is the
highest waterfall in North America,
2,425 feet. Yosemite National Park