Cemeteries
While meandering through the cemeteries, you can envision the excitement and fear these early pioneers must have felt while gathering the last pieces of life they were accustomed to before setting off to uncharted territories in their search for gold. What difficulties did they encountered trying to build a new life while erecting the towns along Hwy 49, each filled with it's own trials and tribulations. Wanting to read every tombstone, hoping to fill in some of the blank spaces our imaginations have created about the hardships and heartbreaks families endured while trying to settle one of the most magnificent areas in California, the Mother Lode, Gold Rush Country. Who were these people and where did they come from, the people who built these impressive places to worship, these grand homes in which to live and raise their families. The school houses made to educate their children, dreaming of a better life for their young ones, the reason they traveled to these untamed areas in the first place. Because of the many men, women and children who decided to stay in Tuolumne County, we can enjoy the rich gold rush history through the many buildings and cultural attractions they created out of necessity but left behind for our enjoyment and education.
Tuolumne County has many historic cemeteries. You are encouraged to visit each and every one of the cemeteries in Tuolumne County, for historical study, genealogical research or to travel back in time while enjoying a walk today. Please be respectful of those buried there, do not remove any items and because of the fragile nature of the tombstones please do not disturb them.
Sonora
| | |
| --- | --- |
| • | Sonora Fire Department Museum - 94 N. Washington St. (above City Hall) Experience over 100 years of firefighting in Sonora through a collection of photographs uniforms and other memorabilia. Vintage equipment also on display. Hours: 9am - 5pm daily. |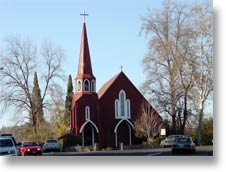 | | |
| --- | --- |
| • | St. James Episcopal Church Museum - Snell St. at Wyckhoff St. (upstairs in social hall) A carefully displayed history of the "Red Church. Hours: 9am - 5pm - Monday - Friday. Stop by church office first |
| • | Tuolumne County Museum and History Center - 158 W. Bradford St. - 209-532-1317 Delight in the rich history of Tuolumne County housed in what was once the old county jail. Hours: 9am - 4:30pm - Monday - Friday. Open weekends from Memorial Day through Labor day 10am - 3:30pm. |
| • | Tuolumne City Memorial Museum - Carter and Bay Streets - 209-928-3516 Open Saturday and Sunday - 1pm - 4pm or by appointment. |
| • | Veterans Memorial Hall and Military Museum - 9 N. Washington St. - 209-533-0923 Open Monday - Friday 10am - 2pm - Saturday 11am - 3pm |
| • | New Melones Visitors Center and Museum - 6850 Stud Horse Flat Rd. - 209-536-9094 The museum displays natural and cultural history. General information on recreational facilities. Ongoing public programs. Sponsored by Department of Interior and Bureau of Reclamation. |
Columbia
It was March 27, 1850 when gold was discovered in Columbia by Dr. Thaddeus Hildreth, his brother George and a small group of prospectors. Or was it a group of Mexicans who panned for gold in the same spot in secrecy for four or five months prior to the Hildreth party happening upon them? According to most reports the Hildreth party discovered gold in Coumbia. Like all the Gold Rush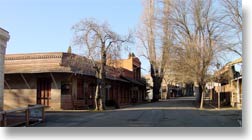 camps along the Mother Lode, with the discovery of gold came a deluge of miners, and a town was born called Hildreth's Diggings, the name was changed two more times, once to American Camp then to Columbia, all in 1850. Columbia was California's second largest city at the time of the Gold Rush. By the end of 1852 Columbia had over 150 stores, shops, saloons and other businesses, a Masonic lodge, a Sunday School, and a branch of the Sons of Temperance. Today Columbia is a State Historic Park in perfectly restored condition to its 1850-1870 era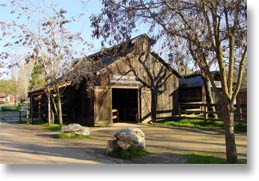 appearance. Considered the best preserved gold rush town along the Mother Lode. Columbia, the "Gem of the Southern Mines," is a living museum. Staffed with knowledgeable guides you will enjoy a walking tour through blocks of brick buildings. Experience gold panning, ride a 100 year old stagecoach. Try a sarsaparilla at an 1850's saloon. Delight in a melodrama or a full stage production at the Fallon House Theatre. Explore the museums and antique shops. See unique shops where costumed craftsmen and artisans demonstrate skills from the Gold Rush Era. The town also hosts many special events that bring the era to life, including candlelight processions at Christmas. Shopping, horseback riding, fine dining, many cultural experiences and more await you at Columbia State Historic Park.
| | |
| --- | --- |
| • | Columbia State Historic Park - 22708 Broadway St. - 209-532-4301 Known as the best preserved Gold Rush town in California. Knowledgeable guides staff the park museum and lead daily walking tours through blocks of restored brick buildings, all circa 1850-1870. Many special events occur year round. Admission is free |
| • | Columbia Museum - Main and State Streets - 209-532-4301 |
Groveland
You will find Groveland on your way to Yosemite National Park on Hwy.120. You can still see the remnants of this once prosperous Gold Rush Town in the historic buildings still in use today. Originally named Savage's Diggings after James Savage who discovered gold there in 1848. By 1850 the town was named Garrotte for its swift and harsh justice. By the 1870's , Garrotte had become a quiet village catering to cattle ranches and a few tourist on their way to Yosemite. In 1875, Ben Savory, owner of what is now the Groveland Hotel, convinced those of Garrotte to rename the town Groveland. Now Groveland is a delightful tourist destination where you can take day trips to Yosemite and other nearby points of interest. Enjoy an abundance of recreational activities including golf, water sports, horseback riding, biking and much more. Shopping, unique stores filled with history, fine dining, art galleries just to name a few of the activities to explore while in Groveland.
Jamestown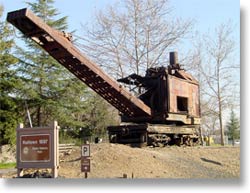 Jamestown is near the spot where gold was first discovered in Tuolumne County. It was Rev. James Woods that discovered gold on Woods Creek in 1848. It wasn't long that the first gold seekers left the area and Jamestown slumbered until 1896 when a group of Bostonians purchased the Whiskey Hill Consolidated Gold and Silver Mining Co. and opened it as the Harvard Mine a year before the railroad came to town. Now with the new mine and railroad Jamestown was booming again. Today you can ride an authentic 1890's steam train for a ride over part of the historic Sierra Railroad. The Railtown complex, built as the headquarters of the historic Sierra Railroad, is the only surviving original roundhouse west of the Mississippi. Historic downtown Jamestown offers something for everyone. Shopping down main street for antiques, gifts, clothing, and specialty items is an experience of its own. Fine dining, cultural attractions, historic bed and breakfasts, nearby wineries and golf courses as well as recreational activities are reasons to visit historic Jamestown
| | |
| --- | --- |
| • | Jimtown 1849 Gold Mining Camp - Jamestown Rd. off Hwy 108/49 - 209-984-4653 Jimtown sits on the site of a former Gold Rush camp along historic Woods Creek, where gold was first found in Tuolumne County in 1848. Experience life in a simulated 1849 gold camp. Open daily 9am - 5pm. |
| • | Bearcloud Gallery - Main St. - 209-984-4244 This gallery features works in all media by local Native American and Western artists. Open Thursday - Monday - 12 Noon - 5pm |
| • | Railtown 1897 State Historic Park - 5th Ave. and Reservoir Road - 209-984-3953 Built as the headquarters of the Sierra Railway, a short line that still serves the area today. You will see the only surviving original roundhouse west of the Mississippi. Purchased by the State of California in 1982 to become a State Historic Park and part of the California State Railroad Musseum. The depot store, interpretive center, roundhouse and grounds are open daily from 9:30am - 4:30pm year round. You can ride an authentic steam train over part of the historic railroad Saturdays and Sundays, April through October and Saturdays in November. Enjoy a six mile, 40 minute roundtrip ride narrated by knowledgeable car attendants. The Sierra Railroad has been featured in more than 200 movies, television shows and commercials since 1919. Call for fares and special excursions. |
Yosemite National Park
Yosemite was originally the Native American word "Uzumati," which means grizzly bear.
One of the most visited areas in the world and rightfully so. Unbelievably scenic panoramas will delight your every sense as you descend into Yosemite Valley. Nature has provided an amazingly beautiful area for our visual pleasures as well as a myriad of recreational opportunities. Sensational rock formations such as El Capitan, Half Dome, Sentinel Rock and Bridal veil Falls are breathtaking. Choose from hiking, rock climbing, mountain biking, fishing, horseback riding, water sports, golfing, alpine skiing, ice skating, sleigh rides, snowmobiling, snowshoe walks and camping amid the natural beauty of dense forests and wide open meadows. Recreation is only one of the many activities Yosemite provides. A variety of special events take place year round for your enjoyment and shopping for antiques, in specialty shops, visiting art galleries, cultural attractions, and fine dining are sure to delight the senses. This and much more make Yosemite a must on every vacationers list of important places to see.
| | |
| --- | --- |
| • | Highway 120 - The Northern Yosemite Highway Park information and roads - 209-372-0200 |
| • | Yosemite Mountain Sugar Pine Railroad, which recreates the old logging steamers, taking modern-day visitors on a four-mile excursion through the forest. |
| • | Wawona's Pioneer Village - a 19th century historical site, hosted by folks in period costume from mid-June through Labor Day and at Christmas. Info: 209-375-6391 |
| • | Mariposa Grove - visit the Grizzly Giant, the oldest known giant sequoia in the world, with a diameter of 35 feet and a circumference of more than 100 feet. The grove has 250 awe-inspiring giant sequoias, the largest trees on earth many of which are nearly 3,000 years old. |
| • | Tunnel View - one of the most photographed vistas in the world. |
| • | Glacier Point - one of the most spectacular overlooks anywhere. 3,214 feet above the Valley floor. |