Far more than just really good coffee, food and unique gifts... Java Garden is a place for friends to sit, relax and talk...

If you need to get on your way quickly, we offer drive through service.
Gourmet Coffee •
Iced Coffee •
Espresso •
Cappuccino •
Lattes •
Chai Tea •
Hot and Cold Tea •
Hot Chocolate •


• Smoothies
• Pastries
• Muffins
• Bagels
• Breakfast
• Lunch
• Our "Famous" Chicken Salad...and much, much more

• Unique Gifts
• Curios
• Cards
• Art
• Book Exchange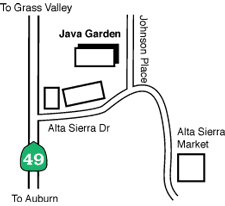 530-272-0233
15690 Johnson Place Suite A, Grass Valley, CA
Right off Hwy 49 at Alta Sierra Drive in Grass Valley.