Click logo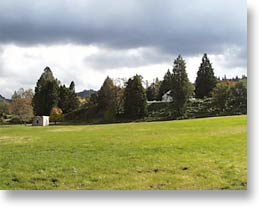 For centuries the Nisenan people went about their day to day lives in the Cullomain Village in the plush and abundant Cullumah Valley. On January 24, 1848, their world, as well as the rest of the world, changed forever. James Marshall hired by John Sutter to build a lumber mill and supply materials for Sutter's dream empire "New Helvetia" discovered GOLD in the tailrace of the new mill. The rest, as they say, is history... Today's travelers can visit the site of the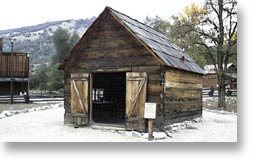 discovery of gold and the beginning of the California Gold Rush by visiting historic Coloma, where it all began. About seventy percent of Coloma is included in Marshall Gold Discovery State Historic Park. The old mining town of Coloma, once filled with thousands of gold seekers, is now a quaint, peaceful town of about 200 year round residents.
Visitors today can meander through time on the tree lined streets of the park and enjoy the many historic buildings that represent Coloma today.
Throughout the park, you will relive the Gold Rush era from the many artifacts and exhibits you will see, which include: an incredible full-sized replica of Sutter's Mill that is still operated regularly for park visitors, the cabin where James Marshall lived after his discovery of gold, the remains of a substantial Chinese colony; the Wah Hop and the Man Lee stores, renovated and open for viewing, exhibits of mining methods, household articles, tools and a way of life gone by. These are only a few of the historic sites you will experience during your visit. It is an important piece of history that what you will find in Coloma along with whitewater rafting, gold panning and camping along the south fork of the American River.

Points of Interest

••••••

Sutter's Mill Replica and Original Site
The full sized replica of Sutter's Mill was completed in 1968 is still operated regularly for demonstrations for park visitors. A monument now stands at the original site of Sutter's Mill.

••••••

Coloma School House
There have been several school houses built and rebuilt where the Coloma School House stands today. The final restoration took place in Sept., 1995. The building is now open to the public for viewing due to the outstanding efforts of the Coloma Schoolhouse Restoration Committee. There is also an intensive school interpretive program.

••••••

Saint John's Catholic Church, 1858 and Emmanuel Church, 1855
These two churches display religious artifacts, and are available for rent for special occasions.

••••••

El Dorado County Jail
Step back in time when you view the ruins of the old County Jail in the Park.

••••••

The Wah Hop and Man Lee Stores
The remains of a substantial Chinese colony restored and open for viewing , exhibiting mining methods, household articles, tools and a way of life gone by.

••••••

Replica of the Mormon Cabin
Where Mormons lived while working on the original mill.

••••••

James Marshall's Monument
Built over the grave in 1889

••••••

Replica of James Marshall's Cabin
Where Marshall lived after discovering gold.

••••••

The Odd Fellows Hall
One of the oldest 2 story wooden buildings in continuous use in Coloma. This building has been occupied since 1854 by Coloma Lodge #100F.
••••••

St. John's Catholic Cemetery
Established in 1856 and estimated to contain over 100 graves. The oldest known grave is dated 1860.

••••
••••••

The Discovery Tour
An easy, level 0.3 mile walk (one way) that takes approximately 45 minutes. You may want to take more time visiting the visitor center/museum.

••••••

Monument Loop Hike
A difficult 1.5 mile walk which includes a 250 foot climb. You will see an area where Nisenan Indian women ground acorns for food. Look for the mortar holes in the rock. You will pass through forest and chaparral. At the top of the trail is James Marshall's Monument, built over the grave in 1889. You will see Marshall's Cabin, The Noteware-Thomas House and the stone ruins of the old El Dorado County Jail. Pick up a map at the visitor's center. Please stay on the trail.

••••••

Cemetery and Winery
The Pioneer Cemetery is quaint and secluded, and more than 600 pioneers are buried there. The earliest known graves date from 1849. Please be respectful of those buried there, do not remove any items and, because of the fragile nature of the tombstones please do not disturb them. Across the road are the ruins of the Coloma Winery which was built by Robert Chalmers during the 1870's. Note: Walking on Cold Springs Road is not advisable.
••••••

Town Tour
An easy half mile walk along Main Street. This is the area occupied by the historic town of Coloma. There are signs at each site and structure giving a brief description and history.

••••••

The Argonaut History
Schulze House
This house was built in 1916 by Charles Schulze for his daughter Daisy, who visited Coloma occasionally. Schulze had been a miner, blacksmith, teamster and mason. In 1886, he fell heir to the Sierra Nevada House and became a hotel keeper. He died in 1921. After Daisy Schulze's death, this house was used as a residence by her heirs.

••••••

The Gold Discovery Museum
Built in 1960 and also used as the visitors center. Here you will receive information and maps, exhibits, and artifacts relating to the gold discovery and gold rush.

Please contact the visitors center for a complete list of points of interest and map of locations. 530-622-3470


Bekeart's Gun Shop
Jules Francois Bekeart was a gunsmith who came to Coloma in 1849 to mine gold and soon became a friend of James Marshall. The hard labor of gold mining was not to his liking, so "Frank" Bekeart started a highly successful gunsmith business in a wood frame and canvas building near this site. This brick building was constructed in 1852 after the wood building burned. It is thought to be Coloma's oldest structure.
Facts & Stats


| | |
| --- | --- |
| Population: | 200 |
| Elevation: | 750 ft. |
| County: | El Dorado County |
| Climate: | Temperatures range from 35 to 50 degrees in the winter and 75 to 98 in the summer. |
| Amenities: | State Park |


Things To Do
Many historical sights and tours, scheduled historic events, whitewater rafting, gold panning, camping, hiking, kayaking, and swimming.
| | | |
| --- | --- | --- |
| For more information on picture perfect El Dorado County and its diverse recreational opportunities, click on logo above | | |
The Gold Discovery Park Association

A nonprofit organization that
supports the Marshall Gold Discovery State Historic Park in Coloma,
California, through historic preservation, conservation, and numerous educational and interpretive programs for the public.