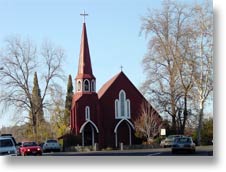 Gold was first discovered along the Stanislaus River in Tuolumne County in May of 1848 by a group of Native Americans working for Charles M. Weber. Two months later Rev. James Woods discovered gold in Wood's Creek in an area near what is now Jamestown, and the rush was on.
Tuolumne is a Mi-Wuk Native American name. The Mi-Wuk's prospered in the area that is now Sonora until 1849 when thousands of miners from all over the world stricken with Gold Fever displaced them. Miners were camped all along streams and gulches and one of the largest of the camps, the Sonoran Camp, became the city of Sonora in 1848 (incorporated in 1851). In 1850 the Tuolumne region became one of the original 27 counties with Sonora as the county seat.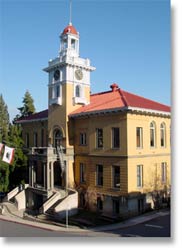 The search for gold, dissipating after its original rush, enjoyed a rebirth in the area with the advent of hard rock and hydraulic mining in the later part of the 1800's. Hard rock mining spawned the birth of the lumber industry and then the railroads by 1897. By the early 1900's Sonora and surrounding Tuolumne County added agriculture and ranching to their industrial economics. Today Tuolumne County, Gateway to Yosemite National Park, with the draw of Gold Rush history adds tourism to its economic portfolio.
Sonora and Tuolumne County's rich history can be seen in every corner of the county, but is best viewed at the Columbia State Historic Park, known as the best preserved Gold Rush town in California, and Railtown 1897 State Historic Park that features the trains that ran supplies and lumber in the early days of the Gold Rush. Other notable sites and buildings you should visit are: The St. James Episcopal Church (better known as the "Red Church, shown at the top of this page"), the historic county jail that now houses the county museum and history center, the county courthouse built in 1898, the Sonora Dome, once the school and Washington Street where many buildings and even some businesses date back to the Gold Rush era.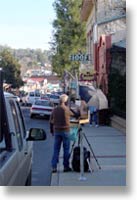 Tuolumne County is the perfect area to view over 700 miles of streams, abundant wildlife, and a plethora of fauna including, forests of Giant Sequoia, oak trees, lupine, Tuolumne lilies, California holly, manzanita, poppies, dogwood and much, much more. The County covers 2,229 square miles with three mountains towering over the foothills, all above 12,000 feet including Mt. Lyell at 13,090 feet.
Sonora and its surrounding historical towns offer a variety of historical sites, museums, fine dining, unique shops, antique shops, bed and breakfasts, motels and hotels, RV parks, camping, everything you will need to compliment your visit to the Gold Country.
Points of Interest

| | |
| --- | --- |
| • | Tuolumne County Museum and History Center |
| • | Columbia State Historic Park and Museum |
| • | Railtown 1897 State Historic Park |
| • | Yosemite National Park |
| • | Tuolumne City Memorial Museum |
| • | Groveland Museum/Library |
| • | New Melones Visitors Center and Museum |
| • | Veterans Memorial Hall and Military Museum |
| • | The Union Democrat |

Things to Do

Fishing, Hiking, Biking, Columbia State Historic Park, Railtown 1897 State Historic Park, Yosemite, Whitewater Rafting, Camping, Boating, Shopping, Fine Dining, Gold Panning, Museums, Golfing, Wineries, Parks, Antiques, Water Skiing, Downhill Skiing, Snowmobiling, Cross Country Skiing, Snowshoeing, OHV, Caverns, Live Theatre, Art Galleries
Newspaper


| | |
| --- | --- |
| Union Democrat | 209-532-7151 |


Radio Station


| | |
| --- | --- |
| KKBN-93.5 FM | 209-533-1450 |
| KVML 1450 FM | 209-533-1450 |
| KZSQ 92.7 FM | 209-533-1450 |


Transportation
Airports


| | |
| --- | --- |
| Columbia Airport | 209-532-4103 |
| Pine Mountain Lake Airport | 209-533-5685 |

Railway


| | |
| --- | --- |
| Santa Fe Railway | 800-825-1654 |
| Southern Pacific | 800-822-9601 |
| Amtrak | 800-872-7245 |

Bus
Local Transportation


| | |
| --- | --- |
| Tuolumne County Transit | 209-532-0404 |
| Dial-A-Ride | 209-532-0404 |

Highway Conditions


| | |
| --- | --- |
| Caltrans | 800-427-7623 |
| California Highway Patrol | 209-754-3541 |
| AAA-California State Automobile Association | 800-222-4357 |

Facts & Stats


Population:

4,220

Elevation:

1,826 ft.

County:

Tuolumne County

Climate:

Winter: 44 degrees
Summer: 78 degrees
Rainfall: 30 inches annually
Snowfall: 0