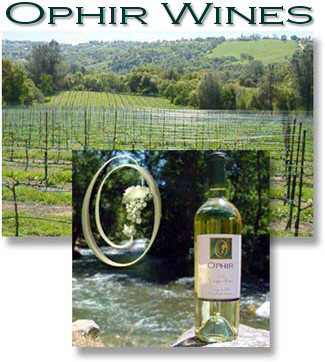 530-823-8030
8030 Woodman Lane, Newcastle, CA
www.ophirwines.com

OPHIR WINES
Ophir Wines, of Newcastle, California produces about 1000 cases per year of fine wines from grapes we grow in California's historic Gold Rush country.
We concentrate on varietals well-suited to the sun and soil of our Sierra Foothills location. We produce a brisk and spicy Sauvignon Blanc, a dry Rosé made from Rhône varieties, a supple Syrah that shows layers of aroma and flavor, and a robust Petite Sirah.
Our goal is to produce wine you will enjoy and talk about. We invite you to explore our web site (click on photo at left) and learn more about us.