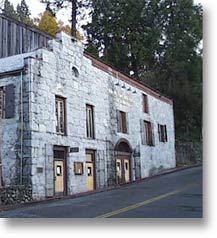 This will come as no surprise to anyone living in Nevada City....
Nevada City Among
"The Great Towns"
Nevada City has been selected as one of 100 communities in the nation to be featured in a new guidebook, The Great Towns of America.
Written by David and Joan Vokac and published by the San Diego-based West Press, the 624-page illustrated book is now being shipped to book stores nationwide. It retails for $23.95.
Subtitled "A New Guide to the 100 Best Getaways for a Vacation or a Lifetime," the book includes detailed descriptions of cultural and recreational attractions. The book is a fully-revised second edition of a popular volume first issued in 1998. Nevada City also was included in the first edition. To be selected, Nevada City was rated against all cities and towns with populations of 80,000 or less, said co-author David Vokac. The 100 selected communities emerged from 221 semifinalists, based on qualities including scenic grandeur and memorable leisure-time activities. Vokac said a dozen towns in the original guidebook have been replaced by "communities that have more thoroughly enhanced their appeal to travelers and basic livability factors. "Nevada City has retained its elite status among the top 100," he said. "As a result, Nevada City will continue receiving the national attention gained from inclusion in the book." "This is a beautiful book and we are thrilled to be included," said Cathy Whittlesey, executive manager of the Nevada City Chamber of Commerce. "To be listed along with Aspen and Telluride, Carmel and Mendocino, is very special for Nevada City.
"This kind of publicity will bring dividends to Nevada City for years and years to come," Whittlesey said. In addition, Nevada City is pictured prominently on the home page of the Great Towns website. See www.greattowns.com. The Great Towns of America is expected to be available soon in local bookstores.
A Nevada City Chamber of Commerce News Release
Nevada City is known as the Queen City of the Northern Mines. It is claimed by many to be California's prettiest and best-preserved Gold Rush towns. Nevada City is embraced by deep green hillsides in the Spring and considered one of nature's brightest western fall-color canvases between mid October and Thanksgiving. The entire downtown historic district is listed on the National Register of Historic Places, comprised of more than 90 quaint brick storefronts and picturesque Victorian homes.
Built on the banks of Deer Creek in 1849 where it is said one pound of gold was taken from the creek a day. Nevada City was originally named Deer Creek Dry Diggins, and later Caldwell's Upper Store. The towns name was changed again, in 1850, to Nevada, Spanish for "snow covered." Another name change was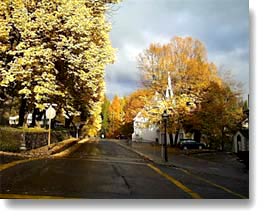 in order when the state of Nevada took the name, consequently, the town became known as Nevada City. In 1851 Nevada City became the county seat and still serves as the governmental center for Nevada County. Mark Twain lectured here and Nevada City was home to several former politicians, George Hearst, Aaron A. Stargent , William Morris Stewart and President Herbert Hoover who lived and worked in the area as a gold miner.Each season Nevada City submits its natural gifts for your enjoyment as well as hosting many seasonal events. Summer Nights, Victorian Christmas, the Nevada City Bicycle Classic, the Teddy Bear Convention , cultural events and live theater and music just to name a few.Walk the historic downtown streets lit by authentic gas lights. Browse in unique shops, galleries, book stores, clothing stores, gift shops, dine in fine restaurants, and spend hours in museums reliving history. Visit Nabob Hill, on mystical seven hills and the Chinese Quarter, a must see on every visitor's list. Many of the restored buildings you pass have plaques that describe their history.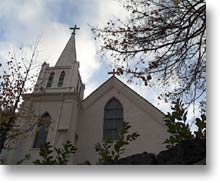 Certainly a tourist haven filled with history, many cultural attractions, antiques, shopping, fine dining, entertainment, recreational attractions of all kinds for all ages, in a setting so pristine you will return again and again.
POINTS OF INTEREST
| | |
| --- | --- |
| • | The County Courthouse: displays artifacts on the main floor. |
| • | The Imaginarium of Nevada County - 161 Nevada City Hwy, Nevada City, 530-478-6415. The Imaginarium is a hands-on science, nature and technology museum. Our current special exhibit is: Space and Flight This exhibit features a 3.3 billion year old moon rock and a real space capsule. For high flying fun come take a trip to the Imaginarium. Admission: We are offering a family special; all children are free with paying adult. Adults $5/ Seniors $3 |
| • | Miners Foundry Cultural Center: this was the foundry for the mines during the gold rush era. Many tools and implements are on display. The Foundry also has many cultural events all year long. 325 Spring, 530-265-5040 |
| • | The National Hotel: claims to be the state's oldest continuously - operating hotel. This hotel was the meeting place where Nevada City was named, and the formation of PG and E Co. 211 Broad, 530-265-4551 |
| | |
| --- | --- |
| • | The South Yuba Canal Building and Ott's Assay Office: the oldest surviving business buildings. 1855 and 1857 |
| • | Town of Washington: east of Nevada City on the Yuba River. One of the first mining camps in this area. The town dates back to 1849. |
| • | Deer Creek Miners Trail: a short walk along Deer Creek visiting six stations describing what it was like to prospect for gold in early - day Nevada City. |
| • | National Landmark Historic Markers: located in Calanan Park at Union and Broad streets. Dedicated in 1985 when the city was named to the National Register of Historic Places, "as the largest and best preserved historical downtown district in California Gold Country." |
| • | Pelton Wheel and Five-Stamp Mill: built in 1893 and used to crush ore at the Fortuna Mine. Located at the foot of Main Street |

Things to Do
Fishing, Whitewater Rafting, Hiking, Biking, Fall Colors Self Guided Tour, Camping, Boating, Shopping, Fine Dining, Antiques, Gold Panning, Cultural Attractions, State Historic Parks, Self Guided Walking Tour, The Maize, Historic Train Ride, Golfing, Wineries, Imaginarium, Bridgeport

Parks & Recreation
www.nevadacityca.gov

Newspaper
Auburn Journal, 530-885-5656


All that's happening in the heart of Gold Country
The Union, 530-273-9561

Share Our Unique California Lifestyle

Radio Station
K-Love, 530-272-3050
K 94.3 FM, 530-272-3424
KNCO Newstalk 83, 530-272-3424
KVMR Community Radio, 530-265-9073

Transportation

| | |
| --- | --- |
| Auburn Municipal Airport, | 530-888-8174 |
| Nevada County Airpark, | 530-273-3374 |
| Sacramento International Airport, | 916-929-5411 |
| Amtrak. | 800-872-7245 |
| Greyhound-Colfax, | 530-346-2248 |
| Durhan Transportation, | 530-8887217 |
| Gold Country Stage, | 530-477-0103 |
| Dial-A-Ride, | 530-477-7433 |
| Telecare Transportation. Services for seniors and people with disabilities, | 530-272-1710 |
| Road Conditions, | 800-427-7623 |

Facts & Stats

Population:

3,000

Elevation:

2,500 ft.

County:

Nevada County

Climate:

Winter: 35 - 54 degrees
Summer: 54 - 85 degrees
Rainfall: 55 inches annually
Snowfall: light, approximately 5 times annually